Image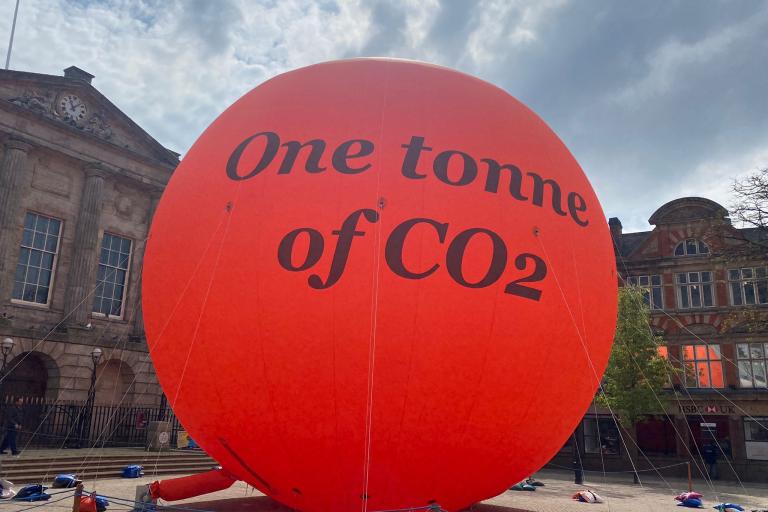 We have been forced to cancel this event, due to safety concerns over the high winds. We apologise for any inconvenience.
A giant orange bubble representing one tonne of carbon dioxide will be landing at a South Staffordshire beauty spot next week.
Dubbed an 'unmissable event', the spectacular 10m-wide sphere will be at Baggeridge Country Park on Monday (August 14) where visitors will be offered top tips on how to mitigate climate change in their area.
The average South Staffordshire resident emits 5.3 tonnes of carbon dioxide per year - the bubble is designed to help people visualise what one tonne looks like.
Visitors are also invited to have their say on what they think could help cut carbon emissions locally, and to make a 'green pledge' to adapt their behaviour.
These pledges will be showcased in displays to be put up in local libraries.
South Staffordshire Council is one of eight authorities joining Staffordshire County Council in the initiative.
Accompanying the bubble will be a team of climate change experts on hand to provide advice to help residents reduce their carbon footprint.
The event will be as low carbon as possible. The bubble will be inflated with hydrogenated vegetable oil – a low carbon fuel – and transported by electric vehicles.
Baggeridge Country Park is a Green Flag award-winning nature reserve which has been designated a site of biological importance.
South Staffordshire Council cabinet member for community services, Councillor Kath Perry MBE, hailed this as a unique opportunity to involve residents in making a difference to climate change locally.
"Mitigating climate change is an absolute priority for South Staffordshire Council," said Cllr Perry.
"We are proud to be aiming for net zero as a council and are very much looking forward to building on our existing successes in working alongside our communities and businesses to drive down the district's carbon footprint."
This is the latest in a series of projects by South Staffordshire Council to mitigate climate change in the district.
In the past year it has supported the planting over 1,000 trees, hosted climate events for 50 young people and 100 businesspeople, invested £4,000 of climate prize funding to community carbon projects and been recognised as a 'net zero leader' by Western Power.
Simon Tagg, cabinet member for climate change at Staffordshire County Council and chairman of the Sustainability Board, said the bubble was a great way of illustrating how much carbon we all use, while sparking conversations about what we can do to reduce our impact.
"It's an unmissable experience, and I'm confident that people will learn, engage, and take action on climate change," said Cllr Tagg.
"Remember, by making small changes in our lives, we can all make a big difference together."