Image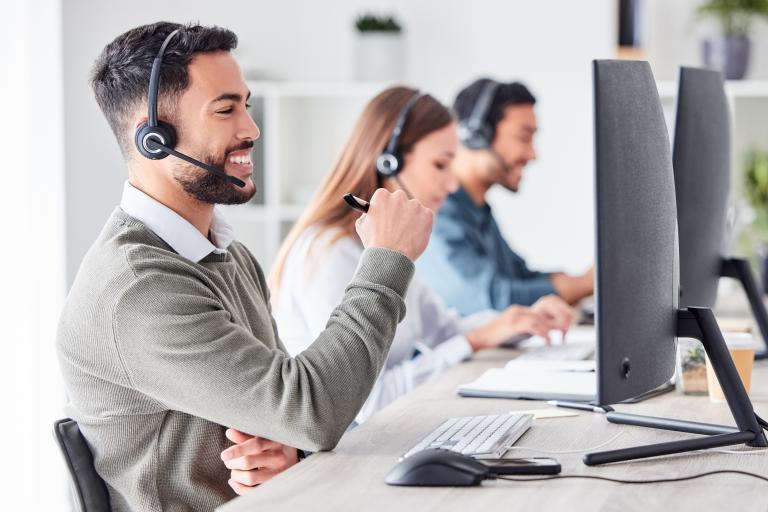 This week, South Staffordshire Council is celebrating National Customer Services Week.
As an organisation committed to excellence in customer service, we're reflecting on how we serve our customers and recognising our colleagues' achievements.
Despite sometimes being faced with challenging circumstances, our customer services staff remain consistently resilient, professional and positive.
We also want to say thank you to you, our customers, for continuing to work with us to help us improve our customer service offer by providing your feedback when things go well, when things don't go as planned - and for taking part in focus groups which help us to continue to improve.
The council has had a number of customer service successes this year, with the delivery of a brand new website with continual exciting new developments; the ongoing dedication of colleagues across the business in providing services for their customers; and of course, our ever-dedicated customer services team which is on-hand five days a week via phone, email, and face to face support.
We pride ourselves on delivering excellence in customer service, and we value our colleagues bringing their customer services skills with them through the business if and when they move into different roles with us.
You may remember Emily as our former Welcome Hub Host. She's now a business support/ outreach officer. Here's what Emily had to say about what customer service means to her:
Emily says great customer service involves having "a welcoming, positive and polite attitude" with an "ability to actively listen and gain a good understanding of what is needed", and being willing to go "the extra mile to help". 
What Emily loves most about her job is "the oxytocin rush from helping people and seeing how much people appreciate that" and "working within wonderful team of people all supporting each other".
"You get to help people on a daily basis, which is great for job satisfaction. No two days are ever the same."
Emily says one of the times she really felt able to make a difference was when she assisted a customer in signing up for garden waste collections online who had been having difficulties doing this independently, for which the customer was extremely grateful.
You may have also spoken to Ben when calling us in the past - or perhaps more recently if contacting us about elections. Here's what Ben, our elections officer and former customer services advisor had to say:
Ben joined the customer services team on a casual basis to help customers calling to sign up for garden waste permits before progressing to take other call types.
Ben says "everyday was a new challenge, quickly building confidence and skills as I went along, as well as resilience".
"Without customer services, I wouldn't be in the position I am in today".
Ben has since been successful in progressing through the elections team, most recently being promoted to elections officer.
"I still think back to customer services and am ever so grateful to them for giving me the opportunity to develop into the person I am now".
And last but not least is Ben, our digital and av support officer, who also used to work in customer services:
Ben says his experience in customer service has really helped with his teamwork and communication skills, which he taken with him into the digital services team.
"The best part of the job is the enjoyment of knowing that I've helped someone with their problem and made their day better.
"Great customer service means listening to the customer and taking in all the information, making sure you're polite and really trying to help".