Image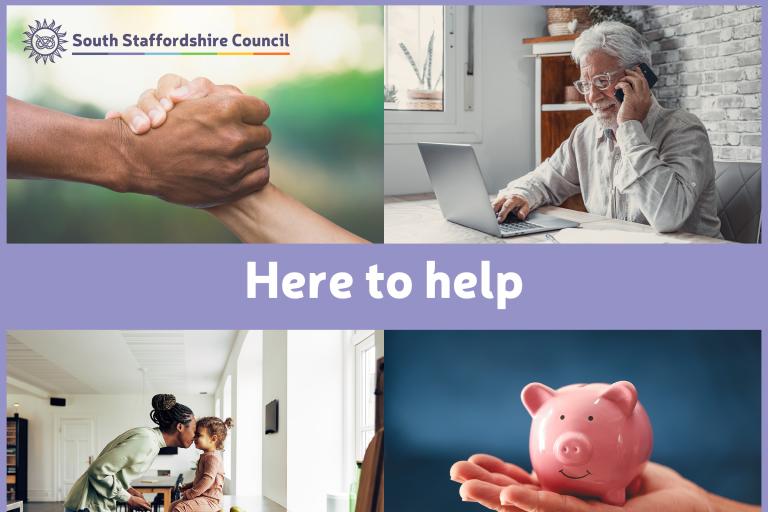 Our welfare services team at South Staffordshire Council provides a wide range of advice and support to our residents who may be experiencing difficulties with their finances, housing situation, or their ability to find work.
Michelle Kettles is the welfare and benefit team manager and has over 35 years' experience working within the benefits sector.
Michelle says she's remained in the sector for so long, due to her passion to make a difference in people's lives.
"When I see the positive impact the work my team and I do has on the lives of people who have been forced to overcome a whole range of obstacles, it really does make it all worthwhile," said Michelle.
"Working with the refugees from Ukraine has been a really humbling experience. Some of those who have come to live with sponsors within South Staffordshire have driven through many countries to get here, bringing what possessions they were able to in their car. They have had to adapt to our way of life, enrol children into schools, and some have taken English classes – all whilst continuing to work online or find new work, during a time where they are also worried about relatives that chose to remain in Ukraine.
"Our discretionary schemes have been fundamental to supporting many families who have struggled with the rising cost of living. We supported a mum and her children to move to a more affordable property after her relationship with her partner had broken down. By aiding her with the rent in advance, she was able to buy the necessities she needed for the family which she wouldn't otherwise have been able to afford."
Michelle currently manages teams which deliver the following functions:
Housing benefit and council tax support
For those on a low income, support is available to help meet the costs of rent and council tax. Additional discretionary support is also available, which may cover rent deposits or rent in advance where a move is required to a more suitable property. It may also be used to reduce council tax arrears. The team also has awareness of other support that is available from our partners and is able signpost people to these.
Disabled Facilities Grants
Grants are available to support people to remain in their home if they require adaptions due to their disabilities. The grants are means tested and can be used to fund solutions such as a level access shower or a stairlift. Since April 1st, 2023, we entered into a shared service with Stafford Borough Council which manages the service on our behalf
Homelessness and housing options 
Although we do not have our own stock of houses, there is a housing register for which people can apply if their current home is not suitable for their needs. If accepted, a banding is allocated, and the applicants can bid on properties that are advertised on a weekly cycle from a selection of local Housing Association properties, that we can nominate prospective tenants for.
Creating Brighter Futures
Following the Government announcement of £2.6bn nationally to fund the UK Shared Prosperity Fund, we launched our People and Skills programme – Creating Brighter Futures. Over the next two years, we will be working with residents to gains skills and qualifications to move into employment or volunteering, or to improve their employment prospects with additional training. We will also be working with local businesses to develop a skilled workforce that meets their requirements.
For regular updates about the support available from the welfare services team, sign up using this link
Some key facts and figures:
A total £92,000 was paid out to 181 South Staffordshire residents in 2022/23 to support with shortfalls in rent or payment of rent in advance/deposits, supporting our communities through the cost-of-living crisis.
 
In 2022/23, we supported 90 residents with Disabled Facilities Grants, facilitating 138 adaptations – totalling £1,257,569.
 
We supported 47 sponsors with 85 guests from Ukraine, helping them settle in the district for as long as they required. Our support included the provision of information about local services, English lessons, plus a monthly newsletter of activities in South Staffordshire and surrounding areas.