Image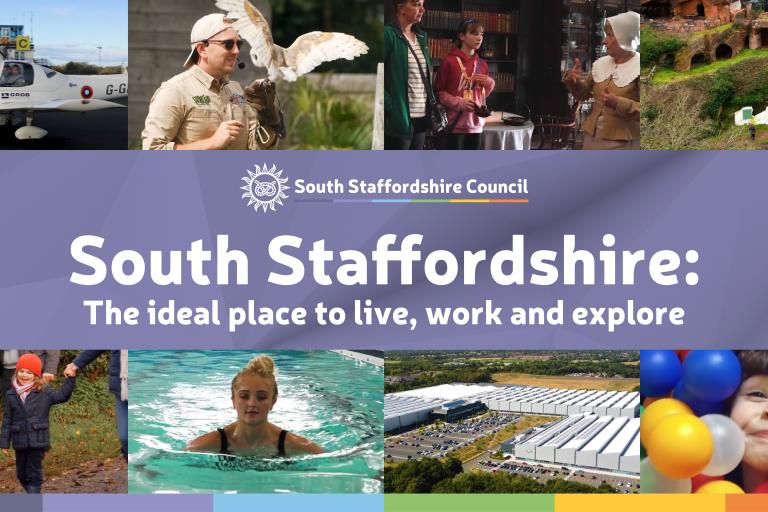 It's a vibrant place to live, a progressive place to work, and a uniquely varied location to explore.
And now South Staffordshire is being shown in all its glory in a brand-new 'Virtual Tour'.
See the video here:
The new video showcases a range of the striking and successful locations the district has to offer, from exciting tourist sites steeped in history and culture, to thriving business locations, vibrant community amenities and more.
Starring sites from right across the district, the video includes footage of the district's National Trust and English Heritage sites – including Kinver Edge, White Ladies Priory, Boscobel House, Moseley Old Hall and Wightwick Manor.
Distinctive and popular attractions such as Baggeridge Country Park, Weston Park and Wild Zoo also feature, alongside The Moat House, Halfpenny Green Airport, Halfpenny Green Wine Estate, Penkridge Market and the Hollybush Garden Centre.
The Virtual Tour also displays some of the district's most prosperous business sites, including the modern Four Ashes Enterprise Centre, the award-winning Dunston Business Village, and i54 South Staffordshire – home to firms such as Moog and Jaguar Land Rover.
Award-winning hive of activity Codsall Community Hub is also included, alongside the impressive and newly-refurbished Penkridge Leisure Centre.
The video will now be used to promote the district's extra special offering, giving businesses a glimpse of the well-connected area, offering visitors a chance to see its array of stunning attractions, and perhaps even making existing residents aware of the many outstanding locations on their doorstep.
Speaking about the Virtual Tour project, South Staffordshire Council leader Cllr Roger Lees, said: "We are immensely proud of our remarkable district – and are delighted to be able to show some of its many wonderful attributes in this video.
"With a great historical background and a range of exciting and innovative locations, South Staffordshire remains forward-facing yet unspoilt by progress – and this video gives everyone a chance to see what we have to offer.
"South Staffordshire is absolutely the ideal place to live, work and explore."